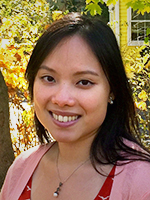 Vivian Yuen Ting Liu is a research associate at the Community College Research Center at Teachers College, Columbia University. She conducts quantitative research on the academic and labor market outcomes to prominent higher education paths or phenomena with state administrative and restricted-use national datasets. Her research has implications for increasing college completion, especially for low-income and marginalized students. Her research interests include transfer students, financial aid, community college credentials, summer enrollment, for-profit education, and the economic returns to higher education.
Ms. Liu is a PhD candidate in economics and education at Teachers College, Columbia University. She holds an MA in economics and education from Teachers College and a BA with a double major in economics and education from Macalester College, Minnesota.
Prior to coming to CCRC, she worked as a quantitative analyst and Pittsburgh specialist at Communities for Teaching Excellence, funded by the Bill & Melinda Gates Foundation. She also worked as a quantitative consultant for Teach For America, New York.
Presentations
Breakout 3C: Barriers to Investing
Friday, April 7, 11:00 AM–12:30 PM