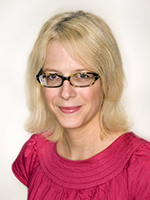 A senior writer at The Chronicle of Higher Education, Karin Fischer covers international education, the globalization of higher education, and colleges and the economy. She currently is leading the newspaper's reporting into "Trump's America," an in-depth look at the critical intersection between economics, education, and the economy.
She previously worked for Kiplinger Washington Editors, MediaNews Group's Washington bureau, the Charleston Daily Mail, and the Daily Hampshire Gazette. Her work has appeared in The New York Times, Washington Monthly, and George magazine.
In 2010, Ms. Fischer was selected for the East-West Center's Jefferson Fellowship program for reporting in Asia. She also is the recipient of Paul Miller and National Press Foundation fellowships and is part of reporting teams that have been honored by the Education Writers Association. A graduate of Smith College, she received the Poynter Institute News Reporting & Writing Fellowship for College Graduates, which recognizes outstanding young journalists.
Presentations
Breakout 3A: Helping Community College Students Invest in a Bachelor's Degree
Friday, April 7, 11:00 AM–12:30 PM