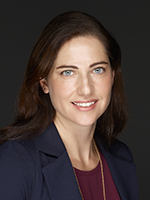 Stephanie Riegg Cellini is an associate professor of public policy and economics in the Trachtenberg School of Public Policy and Public Administration at The George Washington University. She is also an associate editor at Education Finance and Policy, a research associate at the National Bureau of Economic Research, and a nonresident senior fellow at the Brookings Institution.
Her research focuses on higher education policy and the for-profit sector specifically. Recent papers examine the labor market outcomes of for-profit college students and the impact of federal student aid on tuition. Her work has been published in the Quarterly Journal of Economics, the Journal of Policy Analysis and Management, and the American Economic Journal: Policy, among others. She received an MA and PhD in economics from the University of California, Los Angeles, and a BA in public policy from Stanford University.
Presentations
Breakout 3B: Which College to Attend
Friday, April 7, 11:00 AM–12:30 PM
Center for Analysis of Postsecondary Education and Employment, Teachers College, Columbia University
525 West 120th Street, Box 174, New York, NY 10027
TEL: 212.678.3091 | FAX: 212.678.3699
The Center for Analysis of Postsecondary Education and Employment was established in the summer of 2011 through a grant (R305C110011) from the Institute of Education Sciences (IES) of the U.S. Department of Education.
© 2017. All rights reserved.