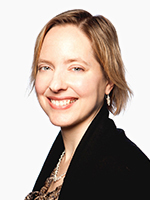 Shanna Smith Jaggars is director of student success research for the Office of Distance Education and E-Learning at The Ohio State University in Columbus, where her research focuses on improving student outcomes, including issues around technology-enabled learning, online and distance learning, online student support services, curricular and transfer pathways, and other topics related to access, affordability, and time to degree.
Her previous work in Virginia, which includes both qualitative research and quantitative analysis using the statewide community college data system, focused on online learning as well as on developmental education pedagogy, programming, and policy. Dr. Jaggars serves as CAPSEE's research coordinator and leads CAPSEE's Virginia project.
Presentations
Breakout 3A: Helping Community College Students Invest in a Bachelor's Degree
Friday, April 7, 11:00 AM–12:30 PM
Center for Analysis of Postsecondary Education and Employment, Teachers College, Columbia University
525 West 120th Street, Box 174, New York, NY 10027
TEL: 212.678.3091 | FAX: 212.678.3699
The Center for Analysis of Postsecondary Education and Employment was established in the summer of 2011 through a grant (R305C110011) from the Institute of Education Sciences (IES) of the U.S. Department of Education.
© 2017. All rights reserved.