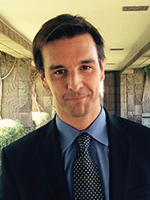 Scott Carlson, who joined The Chronicle of Higher Education in 1999, writes about a range of issues: college management and finance, the cost and value of higher education, buildings, campus planning, energy, architecture, and sustainability. He also contributes to ideas coverage in The Chronicle Review. A former technology reporter at the Chronicle, he hosted the "Tech Therapy" podcast from 2007 to 2010, and he also ran the "Buildings & Grounds" blog with Lawrence Biemiller.
Before coming to the Chronicle, Mr. Carlson worked at the Star Tribune and City Pages, both in Minneapolis, and at City Paper in Baltimore, where he wrote about arts and culture. He has also written for national magazines such as the Utne Reader and Dwell, and has been a contributor to Grist, a popular site for environmental news. He has been a speaker at conferences and colleges across the United States and in Canada, talking about libraries, architecture, and sustainability. In 2006, Mr. Carlson was awarded first prize for beat reporting from the National Education Writers Association for his work covering academic libraries. He is a graduate of the University of Minnesota–Twin Cities, where he studied English literature, with a concentration in contemporary literature and utopian/dystopian literature.
Presentations
Breakout 1A: Returns to Community College: More of the Big Picture
Thursday, April 6, 11:00 AM–12:30 PM
Center for Analysis of Postsecondary Education and Employment, Teachers College, Columbia University
525 West 120th Street, Box 174, New York, NY 10027
TEL: 212.678.3091 | FAX: 212.678.3699
The Center for Analysis of Postsecondary Education and Employment was established in the summer of 2011 through a grant (R305C110011) from the Institute of Education Sciences (IES) of the U.S. Department of Education.
© 2017. All rights reserved.