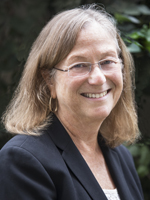 Sandy Baum is a senior fellow at the Urban Institute and professor emerita of economics at Skidmore College. Dr. Baum earned her BA in sociology at Bryn Mawr College, where she is currently a member of the Board of Trustees, and her PhD in economics at Columbia University. She has written and spoken extensively on issues relating to college access, college pricing, student aid policy, student debt, affordability, and other aspects of higher education finance.
Dr. Baum has co-authored the College Board's annual publications Trends in Student Aid and Trends in College Pricing since 2002. Through the College Board and the Brookings Institution, she has chaired major study groups that released proposals for reforming federal and state student aid. She has published numerous articles on higher education finance in professional journals, books, and the trade press. Recent work includes studies of how behavioral economics can inform student aid policy; a meaningful definition of college affordability; tuition and financial aid strategies for broad-access public institutions; and the National Science Foundation–funded Educational Attainment: Understanding the Data. Her book Student Debt: Rhetoric and Realities of Higher Education Financing came out in summer 2016. She is a member of the Board of the National Student Clearinghouse.
Presentations
Plenary Session: Does Society Invest Wisely in College?
Thursday, April 6, 1:30–3:00 PM
Center for Analysis of Postsecondary Education and Employment, Teachers College, Columbia University
525 West 120th Street, Box 174, New York, NY 10027
TEL: 212.678.3091 | FAX: 212.678.3699
The Center for Analysis of Postsecondary Education and Employment was established in the summer of 2011 through a grant (R305C110011) from the Institute of Education Sciences (IES) of the U.S. Department of Education.
© 2017. All rights reserved.