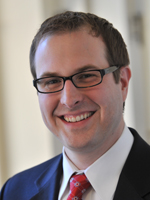 Mark Wiederspan is an assistant professor of higher and postsecondary education at Arizona State University's Mary Lou Fulton Teachers College. His areas of research are the economics of postsecondary education and higher education policy, with a focus on college affordability, financial aid, college persistence and completion, and barriers that impact students' college choice decisions. Dr. Wiederspan earned his PhD and MA in higher education administration from the University of Michigan's Center for the Study of Higher and Postsecondary Education. He earned a BA in political science from Nebraska Wesleyan University. Prior to graduate school, Dr. Wiederspan worked as a policy analyst for the National Student Loan Program in Lincoln, Nebraska.
Presentations
Breakout 1A: Returns to Community College: More of the Big Picture
Thursday, April 6, 11:00 AM–12:30 PM
Center for Analysis of Postsecondary Education and Employment, Teachers College, Columbia University
525 West 120th Street, Box 174, New York, NY 10027
TEL: 212.678.3091 | FAX: 212.678.3699
The Center for Analysis of Postsecondary Education and Employment was established in the summer of 2011 through a grant (R305C110011) from the Institute of Education Sciences (IES) of the U.S. Department of Education.
© 2017. All rights reserved.