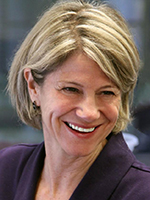 Liz Willen, a longtime education reporter, has been proud to lead an award-winning staff of The Hechinger Report since 2011. She was recently honored for commentary writing by the New York Press Club.
Ms. Willen got her start in newspapers as feature editor of Northport High School's The Rag, in Northport, New York, and worked at an array of New England newspapers before covering New York City public schools for New York Newsday and later higher education for Bloomberg News.
She is a graduate of Tufts University and Columbia University's Graduate School of Journalism and a board member for the Spencer Education Fellowships at Columbia. Ms. Willen is a sought-after moderator at education conferences and events, has been an active New York City public school parent, and is a recipient of the "Above and Beyond" award by the media company City & State for exemplary leadership. She hates jargon.
Presentations
Breakout 2A: Financial Aid: More of the Big Picture 
Thursday, April 6, 3:30–5:00 PM
Center for Analysis of Postsecondary Education and Employment, Teachers College, Columbia University
525 West 120th Street, Box 174, New York, NY 10027
TEL: 212.678.3091 | FAX: 212.678.3699
The Center for Analysis of Postsecondary Education and Employment was established in the summer of 2011 through a grant (R305C110011) from the Institute of Education Sciences (IES) of the U.S. Department of Education.
© 2017. All rights reserved.