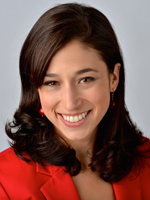 Catherine Rampell writes a twice-weekly, nationally syndicated opinion column for The Washington Post. She frequently covers economics, public policy, politics, and culture, with a special emphasis on data-driven journalism. In addition to her columns, she also writes shorter, chart-heavier takes for her Post blog, Rampage.
Ms. Rampell previously worked at The New York Times as an economics reporter, founding editor of the award-winning Economix blog, and guest columnist for the New York Times Magazine's "It's the Economy" column. She also moonlit as a theater critic for the Times, reviewing off-Broadway and off-off-Broadway plays.
Ms. Rampell received the Weidenbaum Center Award for Evidence-Based Journalism and is a Gerald Loeb Award finalist. She grew up in South Florida (the New York part) and graduated Phi Beta Kappa from Princeton.
Presentations
Plenary Session: Do Students Invest Wisely in College?
Thursday, April 6, 9:00–10:30 AM
Center for Analysis of Postsecondary Education and Employment, Teachers College, Columbia University
525 West 120th Street, Box 174, New York, NY 10027
TEL: 212.678.3091 | FAX: 212.678.3699
The Center for Analysis of Postsecondary Education and Employment was established in the summer of 2011 through a grant (R305C110011) from the Institute of Education Sciences (IES) of the U.S. Department of Education.
© 2017. All rights reserved.